Posted by: cristian1929 Jul 23 2010, 03:24 PM
Hi
Last night I had a misfortune in my 78 rpm record collection, I was ready to burn on my PC to restore and digitize it, however, a clumsy oversight broke it, the record was shut down with some more, others were not passed nothing. Maybe try rescue fixing. The sound will not the same, a shame.



Pelo de Oro (Shimmy) (circa 1927)



Ces't Ca.. Paris (Shimmy) (Circa 1927)



Posted by: victrolajazz Jul 23 2010, 04:07 PM
I know nothing I can say could make it better, but I'm so sorry! I know you've wished a 1,000 times you could go back and relive it without breaking it! I actually think about that every time I get a record out to video it--one day I might trip or fumble it.

All the best!

Eddie the Collector

Posted by: gregoryagogo Jul 23 2010, 05:44 PM
I have taken all the "ka-thump, ka-thump, ka-thumps" out of a cracked record before... There's a chance...

Here's a sample of that record I took that noise out: http://gregoryagogo.multiply.com/music/item/2514
My restored versions, plus a sample of the non restored raw file. I learned some things since I posted this record... I might re do it again!

Here's a suggestion... put it together on the turn table, and try and at least get it transferred with no sound correction to it whatsoever and send me the raw files... I'd love to take a "crack" at it (pun intended)!!! I'm thinking put a little piece of tape in that section between the recording, and the label to temporarily hold it together on the turntable...



Posted by: gregoryagogo Jul 23 2010, 05:51 PM
PS... I love the little kitty on the label!

Posted by: Aaron2006 Jul 24 2010, 08:01 PM
I know the horrible feeling when you see a record break. It's happened to me twice. My favourite Savoy Orpheans record smashed into pieces when I accidentally threw the TV remote right in it's path. Smash!!! Luckily it happened just minutes 'after' I had transferred it onto the computer.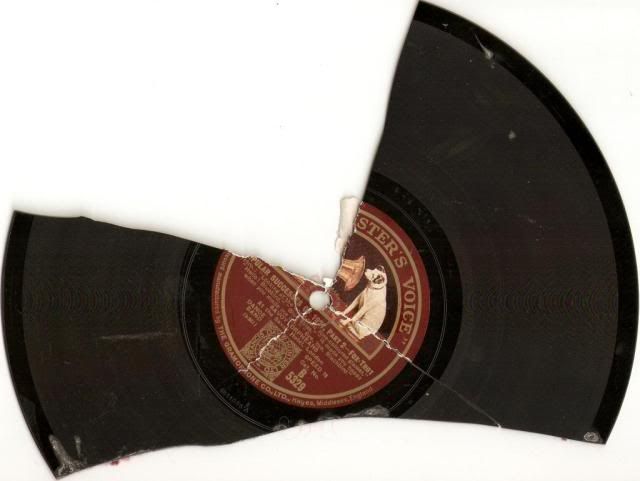 Here it is:

http://www.youtube.com/watch?v=EIKlli6THUI

http://www.youtube.com/watch?v=j_5qM3TyUlo


Last year a record I bought from ebay arrived broken. I held it together with blu-tack and used all sorts of restoration applications to remove the thump....thump....thump....thump. Here it is:

http://www.youtube.com/watch?v=wEUmG3HNBdQ





Posted by: victrolajazz Jul 25 2010, 07:30 PM
This reminded me of a very sad thing that happened 'way back when I'd just been collecting for a few years. In the summer of 1964, we took a trip to the Northeast and Canada and included in it a visit to a long-time record collector and dealer who lived in Detroit, Harry L. Lane. He and his wife lived in a pretty 20's house in a residential area and he let me go through many records in his basement and take my choice for 10 cents a piece. I subsequently began bidding on his lists and about a year later won a couple of records with one of them being He, She and Me on the Domino label, I don't remember the orchestra. When the two records arrived, they had been packed in a box that was not much thicker than the two records themselves and the Domino was broken in two. I was able to glue it back together and play it enough to determine that it was a great version and even had a Dorsey solo, but I've never been able to obtain another in the intervening 46 years and still regret the needless loss. I cannot understand to this day why those two records were packed so inadequately when his previous shipments had been packed in conventional boxes with plenty of padded area above and below. He gave me my money back, but that was small consolation.

Eddie the Collector

Posted by: cristian1929 Jul 26 2010, 01:48 PM
Dear Friends, Eddie Gregory, Aaron and Diego: thank very much for your words of consolation, it is very gratifying to know this situation has happened to me not only me, but as a cautionary rule, I will take security measures to all my new purchases of 78 rpm in the future This weekend I prepared on hard cardboard to keep my records, I hope to repair this record, and work as much as possible in the rescue, once it is ready, we will gladly send them to you.